---
Product of the Year Award

---
Das MSO5 hat es auch zum Product of the Year 2017 geschafft. Diese prestigereiche Auszeichnung ist eine Anerkennung an das innovative Design und die fortschrittliche Prüf- und Mess-Technologie. Vergeben wurde diese Auszeichnung von einer führenden Fachzeitschrift für Elektronikentwickler und Designer.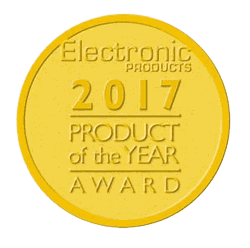 MSO (Mixed-Signal-Oszilloskop) der Serie 5
Dank der innovativen Touchscreen-Benutzeroberfläche mit Pinch-Swipe-Zoom-Funktionen, des branchenweit größten Displays mit hoher Auflösung und der 4, 6 oder 8 FlexChannel™-Eingänge für die Messung von einem analogen oder acht digitalen Signalen kann es das MSO der Serie 5 mit den schwierigsten aktuellen und zukünftigen Herausforderungen aufnehmen. 

Es setzt einen neuen Standard für Leistung, Analyse und Benutzerfreundlichkeit.
Mehr als nur ein neues Display und eine neue Benutzeroberfläche.
Ein neuer Standard.

Kaufen Sie, was Sie jetzt brauchen. Fügen Sie bei wachsenden Anforderungen mehr hinzu.

mit externem Trigger-Eingang.
Somit geht kein Eingang verloren. 

Trade-In Aktion 

Tauschen Sie Ihr altes, qualifiziertes Oszilloskop gegen ein neues ein und genießen Sie bis zu 30% Rabatt. 

Standardzubehör
Kalibrierzertifikat | Netzkabel | 3-Jahres-Garantie | bei 350 bzw. 500 MHz - TPP0500B | bei 1 bzw. 2 GHz - TPP1000

Merkmale
bis zu 2 GHz Bandbreite | 125 Mio. Punkte Aufzeichnungslänge | 4/6/8 analoge Kanäle | 12 Bit ADC - bis zu 16 Bit im Hi-Res-Modus vertikale Auflösung |15,6" Display | Touchscreen

Applikationen
Integrierte Analyse serieller Busse | Analyse serieller Busse in der Automobilindustrie | Jitteranalyse | Leistungselektronik

Der perfekte Schutz für Ihr Produkt

Gehen Sie auf Nummer sicher und schützen Sie Ihr Gerät bereits ab dem Kauf.

Tektronix-Produkt-Komplettschutz - Was nicht repariert werden kann, wird ersetzt!